PTCL Bill
Check ptcl bill online at ptclbills.net. It is a free service website where you can generate ptcl duplicate bill and download a free copy. If you want to print your latest bill, you can also do that here. To view complete ptcl bill, you must have the Phone Number and Account ID. Please enter phone number and account id in the input fields below to get your latest ptcl online bill:
To print the bill, click on 'Print Bill' link and then click on the printer icon on top right corner to initiate the print command. Make sure a printer is attached to your computer in order to get the print copy. Please refer to the picture below to learn how you can print ptcl bill online:

You can get account id from any old bill copy. It is normally a 10 digit number which can be found in top right section of your ptcl bill. The account id is necessary to generate a printable ptcl online bill but if you don't have your account id, you can still check latest bill amount by entering phone number here. So enter your account id and phone number above to get your latest bill for December 2023, or the last month of November 2023.
Requirements to check PTCL Bill:
In order to get your latest ptcl bill online, you must have both of these:
Obviously everyone knows his phone number, but that is not enough to get ptcl duplicate bill. You must have your account id as you can not retrieve bill information without it. Please refer to the screenshot below if you don't know where to find account id: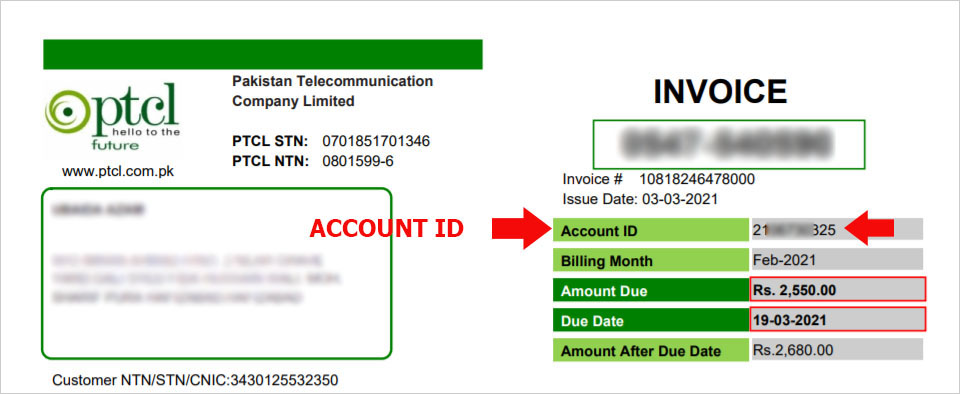 While checking ptcl d bill, make sure not to enter phone number with area code, but it should be entered without area code.
You can not check ptcl bill online with nic number however if you don't know your phone number and/or account id, you can call ptcl helpline and ask what is the phone number and account id registered against your cnic.
You can also register for ptcl e bill. You can fill the e bill registration form here.
About PTCL:
Pakistan Telecommunication Company Limited (PTCL) is Pakistan's well-known leading Internet and Landline service provider company. Significant shares of PTCL are held by the Government of Pakistan. Along with shares, it is working under the supervision of PTA (Pakistan Telecommunication Authority).
PTCL provides a wide range of broadband internet, dial-up, Telephone, and TV services with efficient and cost-effective solutions throughout Pakistan. All PTCL customers can get bill online and even receive hard copy of the bill on their living or commercial addresses.
ptclbills.net is a handy site where you can check your bill amount in advance (just before the bill copy arrives at your doorstep) and get ready for the payment before due date.
If you are shifting to a new location within same city, and want your ptcl connection shifted to the new address, you can do so by calling ptcl helpline and tell them that you are changing your address and still want to keep ptcl connection, and the company will send related person who will install ptcl connection on your new address.
If you are a ptcl broadband user, and lost your bill, you can simply generate it here, and print it for payment in any bank branch. Feel free to contact us if you have any inquiry about your ptcl internet or bb bill.
PTCL Bill Status
You can check ptcl bill status to know if you bill has been paid or not. You can check payment status by either phone number with area code or account id. If you have any one of that, you can check the status here.
PTCL consumers can check latest bill on the official site (ptcl.com.pk) and also the ptclbills.net. At ptclbills.net, the way to check online bill (bill check karne ka tarika) is very easy and compatible with all devices. You can check ptcl wifi bill on your mobile device, desktop pc or any other device that supports internet browsing.
If you want to download your ptcl landline bill, you can download in pdf format by following these steps:
Enter phone number and account id and click on 'Check Bill' button above.
In the next screen, click on 'Print Bill' link.
Here you will see the printable bill view. Now click on 'Download' icon in the top right corner to download your bill.

If you did not receive your first bill, you can call helpline to get your customer id, and then check it online, or ask for your bill directly from the support member on the call.
The bill format is easy to understand where you can quickly see the bill amount and due date as both of them are red outlined. Furthermore you can see the bill summary, internet usage and/or any other service charges that you may have subscribed (e.g. ptcl smart tv). No worries whatever your connection speed is, either you are using 2 mb connection, 4 mb, 8 mb, or whatever speed, you can check all bills in the same way as the bill structure is same for all kind of broadband/internet connections. So, enter required information above, and you will get your ptcl internet bill.
PTCL GPON Bill
GPON is the high speed internet service by PTCL. If you are looking for the gpon bill, you can get it the same like a normal ptcl telephone bill by entering phone number and account id in the input fields above. This web generated bill can be used for bill payment in any bank that accepts ptcl utility bills.